Welcome to Freeman On Ford
Beechworth's first, and currently, the only 5 STAR accredited accommodation venue
YOUR STAY IN THE HEART OF Beechworth
At Freeman on Ford, you'll find beautifully restored Victorian rooms upstairs in a 150-year-old former Oriental bank building. These four bedrooms blend Victorian charm with modern amenities and provide access to landscaped gardens, an outdoor pool, and private on-site parking. Downstairs, three more bedrooms showcase various historical styles, including Art Deco and a French Provincial-themed room called the Petite White, located near the pool.
The rooms

Freeman on Ford offers a total of 7 rooms. Four luxurious Victorian rooms are located upstairs in the 150-year-old historical section of the building, while an additional three rooms are situated downstairs in the newer 2010 section. Each of the Victorian rooms features a king bed and ensuite, with unique color schemes and views.
Deluxe Silver Suite

The Silver room is an opulent room which has views of the pool outside. It has an adjoining veranda and contains pure wool carpet, a king-size bed made specifically for the room. No expense has been spared for this stunning room with the ensuite having floor to ceiling marble on all walls and a handcrafted stain glass double hung window with a double spa and a double shower.
Additionally, there is a unique hand crafted King bed, mirror and matching bedsides that have been hand made for the room.
There is also a kitchenette and tea and coffee making facilities.
The floor to ceiling handmade windows lead to the patio which overlooks the pool. The windows have been carefully curated and hand made which give authenticity and rare integrity to a bygone era.
Deluxe Crystal Suite

The ornate King size bed and ornate bedsides, scream out "luxury, luxury and more luxury."
This room has been reviewed in a magazine as "the most stunning bedroom in North East Victoria!".
The room is the largest of the seven, and like the other Deluxe room, is opulent with no expense spared;
Both deluxe rooms have handmade crafted original stain glass windows which are double hung.  Both have double showers and spa baths.
Each Deluxe room has its own kitchenette and soothing view of the pool.
Each of these opulent rooms are very large with their own writing desks, wing chairs and footstools. The Crystal room boasts Moran leather high back wing chairs. They both have pure wool quality carpet and heavy block out curtains. 
Bronze Room

An upstairs Victorian room with modern comforts that has an exquisite colour palette. Ken Done, prominent artist, has complimented the rooms heritage colour scheme. The unique blue ceiling and bronze light fittings, together with the original ceiling rose, create a romantic ambiance.
The exquisite French parquetry bed with gold trim and matching armoire, reflect the room's sophistication"
The room overlooks the roof tops and the window is adorned with stunning cream swag curtains with gold tassels . This room like all the Victorian rooms upstairs, have great attention to detail reflecting Victorian decore at its finest
Lemon Room

This Victorian decorated room has three windows looking down to the main street of Beechworth. The colour scheme is rich with the drapes being a heavy blue/maroon colour.
The room has a street view.
The walls are lemon with gold stencilling and the butterscotch ceiling is adorned with an antique crystal chandelier. It was awarded 5 STAR in 2005 and 2023. 
Even though all the rooms are similar upstairs, this one is much more dramatic.
Blue Room

This room features two windows facing the streets of Beechworth. It has stunning Victorian colours blending superbly with the gold trimmed swag curtains.
The room has a street view.

The room has original deep Victorian ceiling cornices and ceiling rose. Guests have commented that the room looks like the Victorian rooms at the Windsor Hotel. 
Gold Room

This room was featured in the Great Outdoors show with Jennifer Hawkins in 2005. It is opulently decorated with gold cupid light fittings giving it  a romantic feel.
The bed in this room is generally set as a Super King bed but can be made into Super King singles.
Petite White

This room features a king size bed and has an ensuite with a shower and claw foot bath. This room some self-contained features such as microwave, fridge, tea and coffee making facilities.
'A jewel in Beechworth's crown'
Immerse yourself in a world of opulence and luxury at Freeman on Ford Luxury Bed and Breakfast in the heart of historic Beechworth.
Outdoor area
Swimming Pool
Outdoor area
Swimming Pool
Beechworth North East Victoria
A historic landmark in itself, Freeman on Ford is magnificently situated in the heart of the Beechworth's Historic Precinct, making it the perfect location from which to explore this unique town. 
Immerse yourself in a world of opulence and in the heart of historic Beechworth.
Freeman on Ford provides three tiers of luxurious accommodation options in the central township of Beechworth North East Victoria. All room bookings come with a full hot breakfast using fresh local farm-gate produce (with dishes selected from our in-house menu).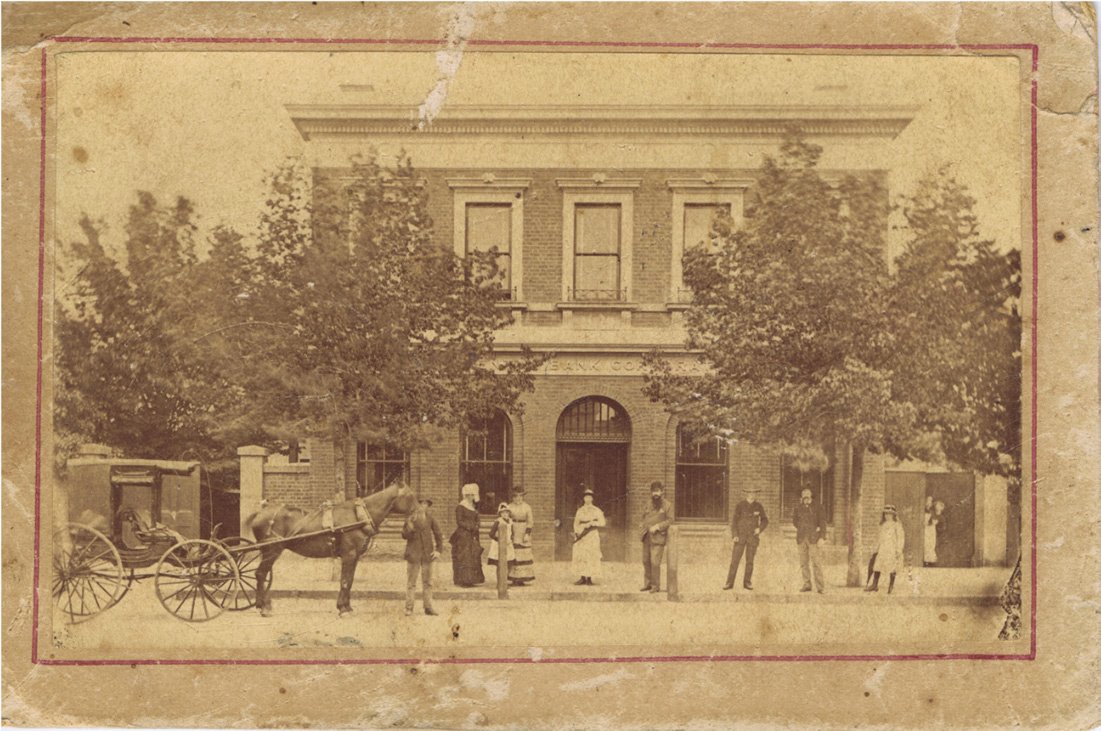 The suspension of Oriental Bank 1884
6 May, 1884 Certainly financial catastrophe which has ever occurred, as affecting Victoria and New South Wales, since these colonies began to become important elements in the monetary world, has created so much surprise...
We had a wonderful two night stay at Freeman on Ford in Beechworth. The building is amazing, the room was clean, spacious and very well appointed. The hosts were great - friendly, attentive and all our needs were met. Great place to stay - highly recommended
Amazing historic accomodation Very unique! Jim & Heidi the owners were legends, very helpful with everywhere to go not only in Beechworth but the surrounding areas. Breakfast was great too!
This is truly luxurious. Ideally situated in the centre of Beechworth, everything is short walk. Dining, shopping and historic sights without getting in the car. The room we had was large and the bathroom was almost as big. We had a view out over the pool and the breakfasts were fantastic. Our hosts Heidi and Jim made sure we knew where to go and what to do. It was just like staying with friends. A most memorable stay thanks very much.